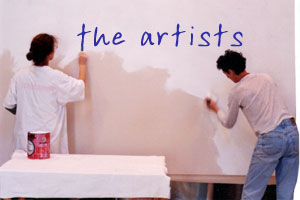 Chip & Scribble Fine Art Studio is comprised of artists Elaine Arnold and Lynne Marshall. Their combined talents make a unique creative partnership, whether they are working individually, collaborating on projects or working with clients to create commissioned artwork.
"Being creative is our nature - our work manifests in many different expressions - we create sculpture, drawings, paintings, illustrations and trompe l'oeil murals, but our speciality is customized artwork - our skill is in appropriately fulfilling the creative desires of others, as well as ourselves."
---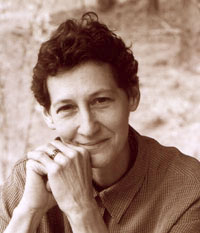 "In all my work - whether in stone, wood, bronze, mixed media, or paint - I am narrating a "story" - stories of deeper values of consciousness - magical, sacred aspects of inner life. I refer to 'sacred art' as artwork that enlivens subtle, more uplifting values in the awareness of the viewer."

In Elaine's work, the elements or the 'characters' display a whimsical quality, a playful or evocative relationship. This invites the viewer to enter into the joy of the forms of the sculpture or painting and participate in the unfolding of the 'narrative'.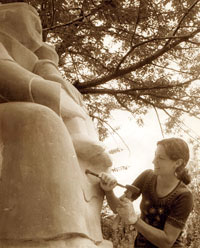 Elaine has always worked as an artist, starting her first major sculpture commission at age 17 on Long Island, NY (a 3-ton limestone sculpture of St Anthony), thereafter producing individual and commissioned pieces in a wide range of materials.

Her work is in private and public art collections in North America: Columbia Museum, Columbia, Georgia; The Grange Gallery, Children's Museum, Toronto Canada.; Wilson Art Center, Rochester, New York. She also has work in Europe, Israel and South Africa. She has illustrated children's books published by Rizzoli, Aladdin Books, Thomas Y. Crowell and Stemmer House Publishers among others.

In 1999 she moved to Deep Gap, North Carolina, to live and work in the quiet, natural beauty of the Blue Ridge Mountains.
---

"Underlying everything in creation is universal Being. The process of creating a drawing or painting becomes a vibrant quest to manifest that 'inner light' on the paper or canvas. My creative intention is to express the unity between the radiant inner light inherent in all things and the lively outer form - to enliven the link between these two worlds of reality."

Born in South Africa, Lynne taught drawing and painting in her Johannesburg art studio from 1980 to 1990, produced commissioned artwork, and exhibited her work in various cities in S.A. In 1990 she moved to the U.S. and, after completing a Master's Degree in Art, continued her artwork and teaching (perception training & drawing techniques) in her studio in Iowa. In 1999 she moved to the Blue Ridge mountains in North Carolina.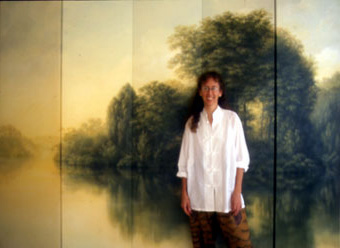 Skill and confidence in drawing is the basis of all her work, creating a strong sense of form, evident in her portraits, botanical drawings, murals and landscape paintings, but most dynamically in the portraits of dancers and performers.
Working with performers in South Africa and in the U.S., she draws and photographs rehearsals, translating the images into drawings and etchings. She has created theatre portraits of dancers from the State Theatre Ballet Company (P.A.C.T. Ballet) in Pretoria, S.A., The Washington Ballet Company in Washington, D.C., Dance Theatre of Iowa, and Sylvia Glasser's "Moving into Dance" Company (Johannesburg, S.A.) as well as portraits of independent dancers and performers.
Her paintings and drawings are in collections in South Africa, England, Australia, Canada and in the U.S.
---

Chip & Scribble Fine Art Studio is nestled in the woods of the Blue Ridge mountains. The studio was built according to the ancient principles of Maharishi Sthapatyaveda - the science of building structures in accord with natural law to promote peace, harmony, health, happiness and prosperity.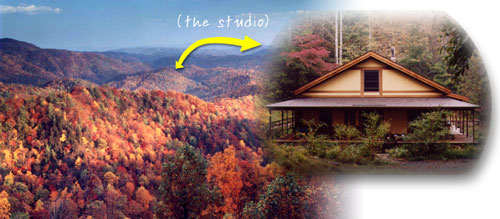 ---
More about the Artists:
Click here for Press and Magazine Articles